Communication agency focused on Visual Merchandising, Instore Design and POS Design.
Since 1999, we provide solutions for our clients in luxury, pharma, cosmetics and consumer goods.
VISUAL MERCHANDISING:
FOR WHO? WHY?
Visual Merchandising is the practice of developing three-dimensional elements for point of sales (shops, boutiques) or cultural spaces (exhibitions, museums, galleries), in order to optimize the presentation of products, the well-being and satisfaction of customers or visitors, and promote sales.
We produce all kinds of POS Material (displays, tradekits, promotional give-aways), Promotional Zones, Permanent Merchandising, Booths.
OUR
MISSION
To arouse the curiosity of the consumer and make him live a unique experience.
Our clients rent space over a defined period of time, from airports to supermarkets or international fairs. In order to optimize the investment of these often unique spaces, our interventions are in line with the flow of passage, maximum heights, norms of fire, etc … The materials used must offer the best image for the client's product, they must be easy to install and adapted to ephemeral or permanent use.
A DEDICATED
TEAM
Our expertise in Visual Communication makes us understand the essence of a brand, and from its existing communication, produce Visual Merchandising. If needed, we create new visuals.
Curious, demanding, experienced, our team have at heart to offer you the artistic, technical and organizational knowledge of our team. If necessary, we prepare Merchandising Guidelines to deploy Visual Merchandising to multiple spaces.
2D-3D, INNOVATIVE TOOLS
AT YOUR DISPOSAL
From sketches by hand, we trace the first intentions. Always in 2 dimensions, we carefully prepare the graphic elements (visuals, texts, claims), as well as the 2D plans, ensuring the size of each element.
Then comes 3D modeling, essential to appreciate the project from different angles, measure the interaction between each element, judge visibility and impact. Our process includes of course prototyping as well as manufacturing advice.
These services can be ordered separately and are offered at competitive rates.
Multiples applications of Visual Merchandising
Displays
Counter, Floorstanding, Shelf displays… Depending on the space available, with different types of material (cardboard, acrylic or other).
Promotional zones
Creation of temporary merchandising in a given space. We generate the consumer's surprise by innovative mechanisms to provide a unique experience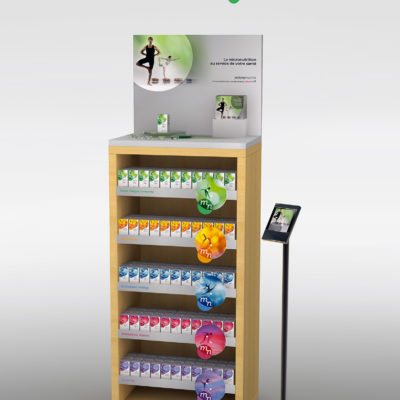 Permanent Merchandising
Permanent merchandising development. Our solutions include update and periodic animations on the units.
Stands
Standard or customized solutions. easy to carry. We adapt you brand image on new or existing furniture.
Avenew, a full palette of benefits